【4/12】4th Tokyo Democracy Forum
As a citizen-led initiative, we, JANIC, have organised a program "Defending Democracy and Civic Space in Asia (DDCSA)", between May 2022 and February 2023, with 6 Key Implementing Partners. The purpose of DDCSA is to support civil society organisations that defend and expand civic space issues and promote the United Nations Sustainable Development Goals (SDGs), specifically SDG16+ "Fostering peaceful, just and inclusive societies which are free from fear and violence", in Asia and beyond.
Since 2019, we have also organised "Tokyo Democracy Forum (TDF)", inviting civil society leaders to discuss challenges and opportunities with regards to SDG16+, civic space, and democratic governance. On Wednesday, 12 April 2023, the 4th TDF will seek concrete actions suggested by 6 Key Implementing Partners.
In addition, civil society groups who are organising Peoples' 20, an independent initiative to call for more autonomous space and process where diverse CSOs, people's organisations, grassroots communities and citizens can freely participate to express their concerns and aspirations to the leaders of the G20 Summit in India, will be invited to discussion.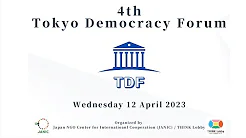 Date: Wednesday 12 April 2023
Time: 9:30-14:45 (Tokyo Time)
Venue: Room TATEYAMA, 3F, Schonbach Sabo (砂防会館別館 会議室「立山」)
Address: 2-7-4 Hirakawa-cho, Chiyoda, Tokyo 102-0093 (〒102-0093 東京都千代田区平河町2丁目7-4)
Access Map: https://goo.gl/maps/wywGyFvTRoypWyTZ9
Language: English only
Program (Tentative) :
9:30-10:30 Opening – Democracy in Asia and beyond today
10:30-11:30 Session 1 – Civic Space in Asia (India, Mongolia, Nepal, and Pakistan)
12:30-13:30 Session 2 – Foreign Interference Laws and Regional Human Rights Mechanism, Policy Coherence for Sustainable Development, Global Health and Democracy
13:30-14:30 Session 3 – C7, C20 and Peoples' 20
14:30-14:45 Closing
Register by 10 April: https://forms.gle/6ypSRjFgs4fyFMS58
Background:
Democracy in Asia is under threat, following Hong Kong's enforcement of National Security Law, a military coup in Myanmar, Taliban's takeover in Afghanistan, Rohingya crisis, brutal crackdowns and violence during COVID-19 lockdowns by governments and police, and continuous restrictions on freedom of speech, association and assembly in the region.
Civil society organisations are pushing back against this trend by collectively raise voices and concerns, such as The Declaration of the Asian Forum on SDG 16+, led by Asia Development Alliance (ADA), Rome Civil Society Declaration on SDG16+, led by TAP Network, policy recommendations on open societies and civic space by C7 and C20, and 10 Recommendations for Action by presenters at the Tokyo Democracy Forum 2022.
In order to address civic space issues, JANIC has been organising Tokyo Democracy Forum since 2019, the first forum was held as a part of C20 Summit in Tokyo, the second and the third forum was held as a part of an online conference "HAPIC" in 2021 and 2022, in line with other initiatives such as Democracy Forums in Busan, Ulaanbaatar, Kathmandu, and Asia-Africa Democracy Forum organised by Asia Democracy Network (ADN) and Community of Democracies (CoD).
Using policy recommendations and tools effectively, in order to defend and expand civic space in Asia, JANIC invited civil society organisations and researchers to join a series of projects on DDCSA as Key Implementing Partners between May 2022 and February 2023.
The main objective of the DDCSA is to improve democracy and civic space situations in a concrete manner in Asia and enhance citizens power to defend and protect democratic value, human rights, as well as human dignity, and promote achieving SDG16+, in partnership with people on the ground, CSOs, policymakers, governments, academia, and corporations. Research outcomes and recommendations by Key Implementing Partners will be shared at the 4th Tokyo Democracy Forum on 12 April 2023.
List of speakers and moderators:
-Jamila Asanova, Asia Development Alliance (ADA) / C7 Steering Committee
-Anselmo Lee, Asia Civil Society Partnership for. Sustainable Development (APSD)
-Narayan Adhikari, Accountability Lab / Coordinator of C7 Open and Resilient Societies Working Group
-Hideki Wakabayashi, Japan NGO Center for International Cooperation (JANIC)
-Hemal Kamath, Voluntary Action Network India (VANI)
-Bilguun Tumurbaatar, Center for Human Rights and Development (CHRD), Mongolia *online participation
-Arjun Bhattarai, NGO Federation of Nepal (NFN)
-Mohammad Zia-ur-Rehman, AwazCDS-Pakistan
-Aoi Horiuchi, Japan NGO Center for International Cooperation (JANIC) / C7 Steering Committee
-James Gomez, Asia Centre
-Gopal Krishna Siwakoti, INHURED International
-Jyotsna Mohan Singh, Asia Development Alliance (ADA)
-Dr. Kim Chang-yup, People's Health Institute, Seoul National University
-Vidya Dinker, Indian Social Action Forum (INSAF) *online participation
-Megumi Mizusawa, Japan NGO Center for International Cooperation (JANIC)